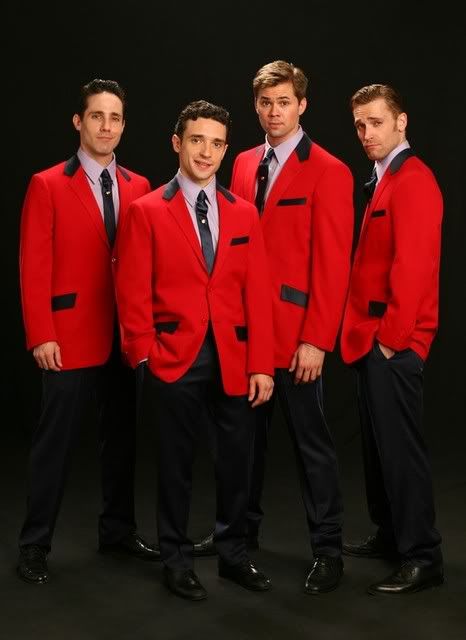 The new cast of Jersey Boys at San Francisco's Curran Theatre includes, from left, Jeff Leibow as Nick Massi, Rick Faugno as Frankie Valli, Andrew Rannells as Bob Gaudio and Bryan McElroy as Tommy DeVito. Photo by Joan Marcus
Third time is definitely a charm for San Francisco and Jersey Boys.
About a year ago, the first national touring company of the Tony Award-winning Broadway hit opened to much fanfare and acclaim at San Francisco's Curran Theatre. The surviving Four Seasons, whose stories are told in the musical, took bows with the cast on opening night, and the show became one of those rare and treasured "you gotta see this" word-of-mouth sensations.
The demand for Jersey Boys meant that what was intended as a touring company could actually sit down at the Curran for a while. The first cast headed to Los Angeles in May, and the second cast continued through September, then they headed to Chicago.
Now, in what's being billed as a "special holiday engagement," Jersey Boys is back at the Curran through December (but will not be here New Year's Eve, so don't even think about ushering in 2008 with Frankie, Bob, Tommy and Nick).
This is the third cast we've seen here, and though they've only been performing for little more than a week, they're in great shape. Word is that these are the Boys — or some of them anyway — who will be going to Vegas to open the specially tailored theater at the new Palazzo resort. Tickets are being sold for performances beginning April 4. Whether or not Jersey Boys will be truncated or will left intact at 2 1/2 hours remains to be seen.
Frankie Valli is played by Rick Faugno, a familiar face from the first touring cast. He played Joe Pesci (yes, the Academy Award-winning actor who really did play a part in bringing the Four Seasons together — side note: Pesci won the award playing a character named Tommy DeVito, a name that means something to Four Seasons fans), and then he became the alternate Frankie (the lead Frankie only performs six out of eight performances a week, and the alternate usually performs Tuesday nights and Wednesday matinees).
Faugno sounds great, and he's got some sturdy acting chops. The one thing working against him is that he looks so young. Frankie ages in the play from his late teens to his late 30s, and while Faugno is believable in the younger years, when Frankie is the father of grown children, it's a stretch. So Faugno has to command with his voice, and he does. His "Can't Take My Eyes Off You" was a little ragged at Friday night's performance, but he still delivered the goods. He also does some impressive dancing — the splits even — during "Beggin'."
Faugno has the advantage (and, I would imagine) the pleasure, of working opposite his real-life romantic partner, Joyce Chittick (whom I must admit I've admired since she was a member of the Skyfire show choir at Sparks High School in beautiful Sparks, Nevada…go Railroaders!). Chittick plays, among other roles, Mary Valli, Frankie's first wife, and she is one tough cookie. Her scenes with Faugno are terrific, and their breakup scene, set to "My Eyes Adored You," is more tender than I've seen it before.
Nick Massi, the "Ringo" of the group in his words, is played by local boy Jeff Leibow, and his performance is striking for how different it is from the two we've seen here before. This Nick is more thoughtful and more idiosyncratic than his predecessors. He somehow seems more real.
On Friday, Bryan McElroy seemed the most adrift in his role as Tommy DeVito. Like Faugno, he seems young for the role, and he's really pushing the Jersey tough-guy edge, when Tommy needs a little more charm. But he's strikingly funny and handsome.
Andrew Rannells as Bob Gaudio, the musical mastermind behind the Seasons' success, is just plain sweet. He's got this boyish face and demeanor that make him immediately likeable.
The other hard-working women in the cast are Natalie Bradshaw and Julia Krohn, and they're fantastic. Along with Chittick, they make the most of their one big number as the Angels, "My Boyfriend's Back."
Friday's performance marked the fifth time I've seen Jersey Boys, and honestly, I thought this might be the time when I enjoyed it less or maybe saw the man behind the curtain a little more. But no, I got caught up in the whole thing and once again found myself wishing the "December, 1963 (Oh What a Night)" high-energy encore would just keep going and going and going — like Jersey Boys itself. Next stop: London.
Jersey Boys continues through Dec. 30 at the Curran Theatre in San Francisco. For information visit www.shnsf.com.