Opened Aug. 10 at Project Artaud Theatre, San Francisco
Noir thriller `Angel Face' gets a tough-talking Word for Word treatment
Three stars Hard boiled
Dames don't come much more hardboiled than Jerry Wheeler. Back in the day she used to strut her stuff in a rhinestone g-string and they called her Honey Sebastian. Jerry knows her way around the tough, gangster-ridden streets of New York City, and the stone cold tone in her voice lets you know she's not going to take any guff.
In other words, Jerry is sort of a female Philip Marlowe except she falls into the gumshoe business by accident when her kid brother, Chick, gets framed for murdering some doll who had underworld connections.
Jerry uses all her smarts – not to mention the assistance of a soft-hearted detective – to clear her brother's name.
That, in a noirish nutshell, is the plot of Cornell Woolrich's 1937 story Angel Face, which has been brought to shadowy, tough-guy life by Word for Word, the San Francisco company that turns short works of fiction into full-blooded pieces of theater.
It's an interesting experiment, as director Stephanie Hunt finds ways to exploit the noir genre – brought so vividly to life in films of the 1930s and '40s – onstage. Sometimes Word for Word's adaptations revel in their cleverness as simple narrative sentences become wonderful bits of stage business.
But for Angel Face, Hunt plays it pretty straight, and though all the "he saids'' and "she saids'' are all in place, the story unfolds with the precision of a movie script. The emphasis is on the genre dialogue, which evokes an entire era all by itself. Try these on for size: "That girl was murdered sure as I was born to shut a mouth.'' "I've hocked everything I own up to my vaccination mark."
Hunt has assembled an enthusiastic cast that embraces the noir conventions – fedoras askew, enticing evening gowns, finding the spot between the shadow and the light – and revels in Woolrich's dialogue from the mean streets circa 1937.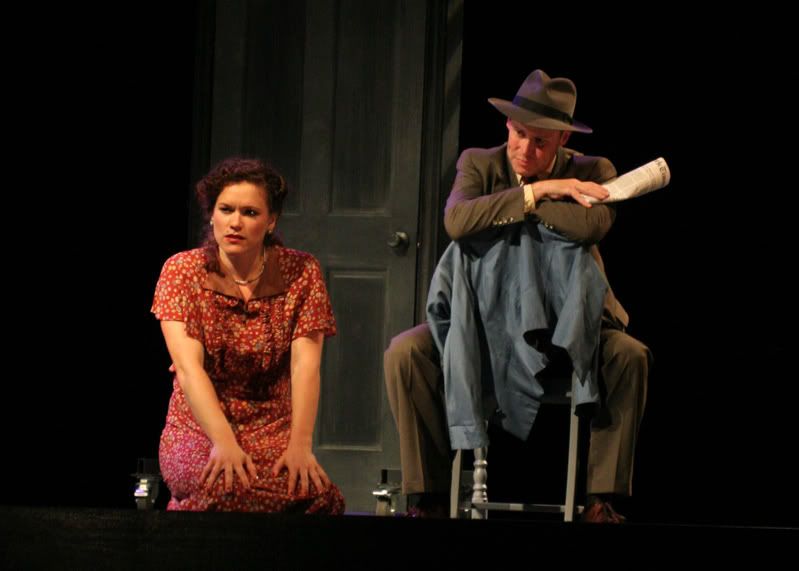 Laura Lowry is Jerry Wheeler, the former burlesque girl now on the hunt for a killer in an attempt to save her brother (the ever-reliable Danny Wolohan) from the electric chair. Lowry has the good looks that make us understand how she gets away with her new nickname, "Angel Face,'' and her tough exterior masks, of course, a heart that longs for the better, more wholesome things in life.
Hot on the trail of the real killer, Jerry initially resists the help of Detective Nick Burns (John Flanagan), but he's a good guy, and she eventually succumbs to his charms – and his able assistance. He gets her out of a pickle or two.
Pulpy and fun, Angel Face doesn't really want to be taken seriously as a story. We don't exactly care about the characters or get to know them with any depth. But we're carried along by the plot, which involves paid-off servants, nightclub magnates, thugs in zoot suits and maraca-shaking showgirls with bananas on their heads.
The Project Artaud Theater is enormous, and though the story has scope, it suffers from a lack of intimacy. It'd be great if we could see Lowry's angel face up close. But set designer Mikiko Uesugi does her best to fill the cavernous space with a multi-level set that catches Thomas Ontiveros in appropriately shadowy ways.
The hardworking cast members, who play multiple roles with ease, include Morgan Voellger (as the wonderfully named Ruby Rose Reading), Michael Patrick Gaffney (as a brutish detective, a fey auctioneer, a nightclub manager and a gangster sidekick), Casey Jones Bastiaans (as a double-crossing maid, a calypso singer, a grieving old woman and a hunched-over piano player) and Paul Finocchiaro (as a sleazy gangster kingpin).
It's funny, but Angel Face, because it is a well-done resurrection of the noir genre, ends up feeling less like a story, or even a play, and more like a movie you'd watch on Turner Classic Movies on a rainy Saturday night.
For information about Angel Face, visit www.zspace.org/angelface.htm.