In his unfinished, unpublished preface to Theophilus North, his final novel, Thornton Wilder wondered what we humans do with our "despair, rage and frustration." He considered North, which was published in 1973, to be precisely about our battle against the worst things that life throws at us.
That battle courses through Wilder's work, whether it's one of his plays (Our Town) or one of his novels (The Bridge of San Luis Rey).
Early in his career, Wilder summed up his work to then, and his assessment proved true for most of what was to follow: "It seems to me that my books are about: What's the worst thing that the world can do to you, and what are the last resources one has to oppose it."
In Theophilus North, published when Wilder was 76, two years before his death, Wilder offered a somewhat autobiographical title character who was both aimless and ambitious, anxious to find his place in the world and to be of service.
Theophilus (who bears the same name as Wilder's twin, who died shortly after birth), is stuck in Newport, R.I., and ends up working odd jobs for the town's wealthy inhabitants and the less wealthy people who serve them.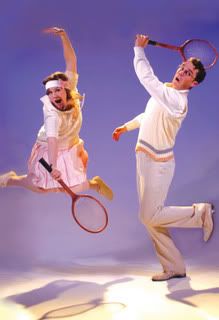 He's not unlike Dolly Levi in Wilder's The Matchmaker, who ends up meddling and changing people's lives.
The story of Theophilus grabbed hold of Matthew Burnett, also aimless and ambitious, almost by chance and ended up changing the young actor's life. His stage version of the novel has its West Coast premiere Saturday in a TheatreWorks production at the Lucie Stern Theatre in Palo Alto.
Having reached a sort of post-college sand bar that had waylaid his own voyage through life, a 23-year-old Burnett ended up back at his old high school in Calabasas chatting with the teacher who had directed him in a production of Our Town. The teacher recommended the young man read Theophilus North.
"I started to read the book and was dumbfounded," Burnett says from his New York City home. "It became apparent to me within 30 pages that this novel would be a great play. It just had to be a play. At that point I was thinking about it as an actor. I was Theophilus. I figured I'd write the play for myself."
Years passed, and by the time Burnett was at the point where he could actually begin to seriously turn the novel into a play, he was too old to play the 30-year-old North.
"It's just as well," he says. "If I was going to write this, I needed to be able to separate myself and see what's working, what isn't."
Before Burnett began to write in earnest, he contacted the Wilder estate, which was then run by Wilder's sister, Isobel. The response from the estate was pretty much, "No thank you very much."
A heartbroken Burnett couldn't be dissuaded. He decided if he couldn't write the play as a viable project, he'd write it for the love of doing it.
For several years, in between acting gigs, Burnett would sit on the roof of his Brooklyn building and turn Theophilus North from a nearly 400-page novel into a two-hour play.
When he actually had a working script and had actor friends read it in a sort of living room workshop scenario, he decided to make a serious move: He hired a literary agent.
"I knew I had no credibility as a writer, but through the agent we contacted the Wilder estate again, which was by this time run by Thornton's nephew, Tappan Wilder," Burnett says.
One night Burnett's phone rang, and it was Tappan Wilder. Burnett recalls Wilder saying: "You know, we don't ever give rights to these things, but I'm intrigued by the work you've done and who you are and why you've done this."
Burnett and Wilder met in New York at the Yale Club, and at the end of the night a deal was struck.
"Tappan said to me: `I like you and think you've done a good job. I say yes.' He shook my hand. I don't know what I did for the next three hours or how I got home or any of it," Burnett says.
Theophilus North, the play, had its world premiere in 2003 as a co-production between the Arena Stage in Washington, D.C., and Geva Theater Center in Rochester, N.Y., and it was produced again last year off-Broadway.
The novel is episodic, as Theophilus makes his way through Newport, helping here, teaching there and affecting lives everywhere. Burnett's job as a dramatist was to give Theophilus a more dramatic arc and emphasize that although he's a bright man with a wealth of factual knowledge, he still has a lot to learn about the world.
"There's a section in the novel in which Wilder says Theophilus wanted to be surrounded by a constellation, but that this desire had nothing to do with romantic love or love of family.
"That made me think, `What kind of love are we discussing exactly?"' Burnett recalls wondering. "It's such a pure, beautiful thing that Wilder ended up turning to: a love of friends, a love of your community, which is a love that is not swayed by broader, more basic impulses. But that's one of the things Theophilus in my play has to discover. That's his journey. He's somebody that has a perspective on the world at the beginning that is kind of unraveled by the end through the process of him helping other people."
For the last few years Burnett has been, in essence, living in Wilder's world, which, he says, is not a bad place to be.
"I think Wilder, more than any other American writer, was better able to articulate in a direct, tangible fashion, the ability to see the universal in the particular," Burnett says. "We can't live within the constant desire to have consciousness of the universal, but we can find the universal in the specific."
When he died, Wilder was reportedly at work on a sequel to Theophilus North, and its tentative title was Theophilus North, Zen Detective.
Now there's an intriguing idea. Perhaps the time has come for Burnett to pen a Thornton Wilder-inspired TV series.
Theophilus North continues through Aug. 12 at the Lucie Stern Theatre, 1305 Middlefield Road, Palo Alto. Tickets are $21 to $57. Call (650) 903-6000 or visit www.theatreworks.org.