Opened June 4, 2007, Intersection for the Arts
Hagedorn finds dramatic heat in `Desert' comedy
three stars Fun, unfocused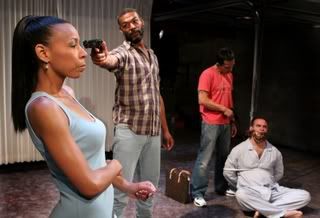 Fe looks into the desert surrounding her multi-million-dollar home and sees nothing but a "vast, wide-open burning piece of nothing."
Clearly she's not happy. Her nine-year marriage to a very nice, very rich man leaves her bored. The desert isolation is, well, too isolating, and she gets through each day with help from her addictions — to shopping and to cocaine.
That's the status of Fe's existence when we meet her in Fe in the Desert, a world-premiere play from former San Francisco writer Jessica Hagedorn, again collaborating with Campo Santo and Intersection for the Arts.
Fe in the Desert is actually a prequel to Hagedorn's 2005 play Stairway to Heaven, which takes place in San Francisco's Tenderloin District. In that drama, Fe appears after the collapse of her marriage.
In Fe in the Desert, we find Fe on the verge of making a big change in her life. It's her birthday, and she was almost run off the desert highway by a woman driving a truck full of meat.
As if that weren't sign enough (and Fe is sure it's a sign), Fe's birthday celebration is interrupted by two newly sprung ex-cons, guns in hand, looking to — to what? Are they going to rob the place? Kill Fe and her sniveling husband? Or is there something else going on?
Unlike the earlier Stairway to Paradise, Fe in the Desert is a sprawling narrative that attempts to juggle the stories of three couples simultaneously.
We have Fe (played, as in the earlier production, by the glorious Margo Hall) and her sweet, simpering husband (Danny Wolohan); then there are the criminals, Tyrone (Robert Hampton) and Mook (Jonsen Vitug), whose relationship has a tough romantic edge to it; and there's movie producer Ramon (Michael Torres) and his new Lebanese secretary, Suze (Sara Hernandez), whose function in the play is never really clear.

Hagedorn and director Danny Scheie sure know how to keep things lively and entertaining, even if they can't quite get us to that definitive moment when all the elements come together.
The previous play was like this as well: fun to watch, engaging and full of great performances but, in the end, somewhat inscrutable.
There's a lot of comedy in this Desert, but the sassy tone, whether conveyed in extensive use of pop music (Beyonce and Jay-Z's "Crazy in Love," the Chi-Lites' "Have You Seen Her") or in Hall's take-no-crap attitude, obscures some of the play's shadows.
In terms of design, the production is striking. Lisa Dent's set makes frequent use of the automatic garage door and the billowy white curtains that fill the small Intersection performance space. And Timothy Jordan's droll designs fill video monitors on either side of the stage.
The house invasion never quite seems credible, though Wolohan's terrified homeowner gives weight to the situation. Scheie's zippy direction keeps leaning toward comedy, but the play seems to want moments of more realistic trauma.
Still, it's hard to complain when we're so grandly entertained by the dance-off between Fe and Mook. If you're ever faced with a life-threatening home invasion, you might consider a dance-off to ease the tension.
The two-hour play finally brings together all three couples but without a satisfying result. The Ramon-Suze pairing seems tacked on, and Fe's impulse to up and leave when the turbulent night is finally over seems more convenient than earned.
But we understand. Fe has another play to get to.
For information about Fe in the Desert visit www.theintersection.org.