opened June 2, 2007, Bruns Amphitheater, Orinda
Villainy rules in Cal Shakes' masterful Richard III
three [1/2] stars A Richard to remember
This smart, funny man can't be all bad, can he?
When we meet the man who will become King Richard III in California Shakespeare Theater's season-opening Richard III, we're completely charmed by him.
As he sheds his armor, we notice his right arm hangs limply at his side, while the hump on his back and his uneven legs have left his body twisted. But his self-deprecating wit — "…so lamely and unfashionable that dogs bark at me as I halt by them" — disarms us.
That's the trick. He can make us laugh with the way he says one silly word ("lute"), but then, just as we're basking in his glow, he tells us something important. "And therefore, since I cannot prove a lover to entertain these fair well-spoken days, I am determined to prove a villain."
As played by Reg Rogers, making his Cal Shakes debut, Richard immediately has the audience on his side, which is key in any production of Richard III. Horrible things happen because of Richard — beheadings, betrayals, fratricide, to name a few — but we like him. We really like him. It takes most of the play and a staggering body count to make us finally admit that he really is a bad egg.
At Saturday's chilly, fog-enshrouded opening-night performance in Orinda, the audience was fully taken in by Rogers' Richard, and that's a sure sign of success for director Mark Rucker.
The production may be three hours, but it doesn't feel long because Rucker moves things along at a startling pace and keeps our focus intently trained.
Erik Flatmo's set is all rough, raw plywood and utility lights (a whole lot of utility lights, fluorescent and otherwise) as if to let us know that we're in a kingdom in such turmoil that nothing ever gets finished. This is the time, after all, of the War of the Roses, the thorny battle between the houses of York and Lancaster to get their kings on the throne.
The warring families are so weary of fighting, and their numbers so decimated, the moment is ripe for an ambitious egoist to seize the moment and catapult himself onto the throne. That's exactly what Richard does, putting his brother in prison and then having him murdered, taking allies into his confidence and then turning on them, and, most famously, murdering two boy princes in the Tower of London.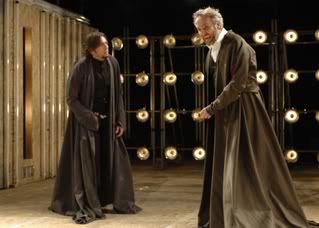 Rogers' charming ferocity and his keen physicality (Richard often looks like he's dancing or skipping, when really he's just trying to remain upright) carry the evening without question. His Richard carries us willingly into the heart of evil, and except for all the blood and horror, it's an enjoyable place to be.
The rest of the cast — outfitted in flowing robes by costume designer Katherine Roth — is excellent but can't quite wrest the spotlight away from Richard, and that's only right.
There are exceptions. Catherine Castellanos as the ousted Queen Margaret, widow of King Henry VI, makes two memorable appearances. The first time we see her, she's raving and cursing like a mad woman. The second, she is part of a quartet of spurned queens — Lorri Holt as Queen Elizabeth, Susannah Livingston as Richard's wife, Anne, and Sharon Lockwood as Richard's mother — who find strength in their shared misery and resolve to fight the tyranny.
Rucker's production begins with Kay Starr's 1952 hit "Wheel of Fortune," which brings a smile before the villainy begins. But that pop song becomes the play's theme, and in one brilliant scene, Richard even sings it himself.
Political villainy is timeless, as Shakespeare knew, and Cal Shakes' vivid, engrossing Richard III reminds us that the really bad guys — the ones with charm and intelligence — can make us laugh and slice us in half between chuckles.
For information about Richard III, visit www.calshakes.org.