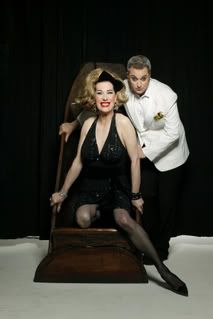 The crowd in the funeral parlor was practically giddy.
One man, in a mourning veil, no less, let loose with the fake tears and proclaimed between phony sobs: "Kiki! You were a flaming megastar!"
Rather than mourners, San Francisco's Halsted Funeral Home was filled last week with press gathered to hear comedian and writer Bruce Vilanch eulogize Kiki and Herb, the ancient singing duo, who had apparently died on their way to be "highlighted yet uninvited performers at the funeral of the Rev. Jerry Falwell."
As Vilanch took his seat in a front pew, he could be heard asking a fellow across the aisle, "Are you choked up? Would you like to be?"
Such was the non-grief that ruled the unconventional press conference held by American Conservatory Theater to herald the arrival in July of Kiki & Herb Alive from Broadway.
During Vilanch's eulogy, he mentioned that en route to Falwell's funeral, Kiki and Herb had stopped in Texas at the Bush Library. "They read one book and colored the other," Vilanch said. "Then Kiki was abducted by an actual coyote, who rejected her saying, `There's such a thing as coyote too ugly.' "
But before Vilanch could get too far in his speech, the door of the chapel bust open, and in busted Kiki and Herb themselves with Kiki bellowing through a megaphone.
"Having this almost be our funeral is almost a dream come true," said Kiki (played by Justin Bond), while Herb (Kenny Mellman) settled behind a keyboard. The two then launched into a typical K&H number, a cover of the Mountain Goats' "No Children," which has a refrain that goes something like, "I hope you die. I hope we both die. La la la la la."
The years have been kind to Kiki and Herb. It was nearly 20 years ago that Bond and Melman first hatched the characters on the entertainment fringe in San Francisco. Since the early days of playing clubs like Cafe du Nord, this not-so-dynamic duo moved on to New York, where they became downtown favorites and eventually crossed over to the mainstream — imagine Steve & Eydie on some divine hallucinogen played by Kabuki actors with a penchant for dark rock songs.
Kiki & Herb Alive from Broadway is nominated for a best "special theatrical event" Tony Award. Their competition is ventriloquist Jay Johnson.
"Will you beat the ventriloquist?" a journalist asked Kiki, who narrowed her eyes and muttered: "One way or another."
Ever the edgy boozy chanteusey, Kiki responses to the press were pointed and only slightly slurred. Here are some highlights:
We're immortal, so we speak a lot of dead languages.

I was at the bottom of the pile and pleased as punch.

I haven't touched my hair since 1994 when Pierre died of AIDS. I think of my hair as a living AIDS memorial.

I like to fuel up the old liver and watch her go.

I admire what Paula Abdul did to save her Chihuahua. If I had been that way, my cat Mr. Peepers might still be alive.

This is the start of our Year of Magical Drinking tour.

If we can get a Tony nomination and Jerry Falwell can die on the same day, there's a tide turning in the culture war. But there's still a shadow because Pat Robertson is still alive and Bush is still president.

My advice for Paris (Hilton) is to enjoy the ride. I was in prison. That's where I learned there's more than one way to love. It's marvelous
Kiki & Herb Alive on Broadway runs July 13 through 29 at American Conservatory Theater, 415 Geary St., San Francisco. Tickets are $13-$66. Call (415) 749-2228 or visit www.act-sf.org.