Get all that merry singing and dancing out of your head.
A new theatrical adaptation of Charles Dickens' Oliver Twist arrives at Berkeley Repertory Theatre this weekend, and it's nothing like the 1963 musical Oliver!
Director Neil Bartlett originally created Oliver Twist for the Lyric Hammersmith in London, and it became a huge hit.
Wrote the London Independent: "Are you one of those people who can't bear the fake Cockney jauntiness of Oliver!? If so, help is at hand…Neil Bartlett's Oliver Twist is richly satisfying. Unlike its hero, you aren't left asking for more."
With a new American cast, the show has hopped the pond, as they say, and is making the rounds of American Repertory Theatre in Massachusetts, Theatre for a New Audience in New York, and now Berkeley Rep, where it plays in the Roda Theatre.
As a kid in the early '60s, actor Ned Eisenberg, who plays Fagin, the mercenary leader of the child pickpocket crew, remembers the first show he ever saw: Lionel Bart's musical Oliver!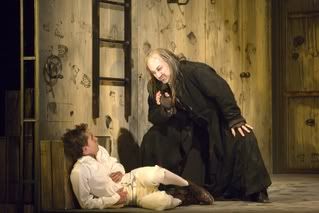 "Neil's show isn't anything like that," Eisenberg says from his New York apartment, where his 4-year-old son can be heard in the background competing for attention. "The musical made the story palatable and fun. The Dickens novel, and this version of it, is spooky and scary. Many of these characters do not come to a good end. They certainly don't go off skipping and singing."
Originally published in monthly installments in Bentley's Miscellany from February 1837 to April 1839, Oliver Twist is a dark and darkly funny novel of social ills ranging from the inhuman conditions of the workhouses to the recruitment (and ruin) of children forced into criminal life.
Dickens' satirical voice is present throughout, especially as he deals with a society prone to ignore the plight of its poor, starving underclass.
"The lighting is garish, the set is grimy and dirty looking with trap doors and secret ways in and out," says Eisenberg, 50, of Bartlett's production. "You feel like you're right there in 1837 in the bowels of London."
Though he has never performed in a Dickens stage adaptation _ somehow he escaped the perennial call of A Christmas Carol _ Eisenberg says he's a Dickens fan _ especially of David Lean's film adaptations: Oliver Twist and Great Expectations.
"Those films get the world of Dickens right," Eisenberg says.
A veteran of both stage (he co-founded the revered Naked Angels Theatre Company in 1987 with Fisher Stevens and last year was in the acclaimed Broadway revival of Awake and Sing ) and of film (he was a semi-regular on "Law & Order" and last year was in Clint Eastwood's Flags of Our Fathers), Eisenberg says he's often loathe to commit to a lengthy stage run, especially if it takes him away from his family.
"But this one was special," the actor says.
Bartlett's style is what you might call hyper-theatrical. A cast of 13 plays more than 50 roles. Only Eisenberg as Fagin and Michael Wartella (a jockey-size 20-year-old) as Oliver stick with a single character. Gerard McBurney contributes music, most of which is a cappella choral singing along with eerie sounds from a violin, a hurdy-gurdy and a serpent (a woodwind horn in the shape of a snake).
The character of Fagin can be a tricky one. A Jewish man who hoards money earned by wayward children forced into being pickpockets and petty criminals, Fagin — like Shylock in Shakespeare's The Merchant of Venice — was not made for these politically correct times.
"Neil hasn't gussied up the role or made a choice to play it safe," Eisenberg says. "He has allowed me to go to a dangerous place with the role. There's a scene in the play that hasn't been seen in other adaptations. It's from the penultimate chapter in the book, with Fagin in his cell, terrified of the gallows, going stark-raving nuts."
As for the anti-Semitic aspect of the character, Eisenberg says there's been no attempt to reclaim or whitewash Fagin.
"He's a real criminal corrupting all these children. He's creepy," Eisenberg says. "He's not presented as a sexual predator with these kids, but in this day and age, there's an underlying feeling that that could also be part of what's going on. In terms of the anti-Semitic nature of the character, we don't dwell on it, but there are some shocking things in there."
Clearly, this is not Oliver-lite, and parents should be cautious when bringing children.
Eisenberg says he wouldn't recommend the show for children younger than 10.
"This is a show about people behaving badly at the expense of children," Eisenberg says. "All the kids in the show are orphans, which is scary enough, but this is a harsh world. People don't have enough food, and there's cruelty everywhere. Oliver is sold to a coffin maker, bullied nonstop, and then is taken in by a bunch of thieves and murderers."
On a more cheerful note, Oliver Twist marks a return of sorts for Eisenberg, who played the Curran Theatre in San Francisco with the national tour of Neil Simon's Lost in Yonkers in 1992.
"I happy to be coming back," he says. "I fell in love with the Bay Area."
Charles Dickens' Oliver Twist continues through June 24 at Berkeley Repertory Theatre's Roda Theatre, 2015 Addison St., Berkeley. Tickets are $45 to $61. Call (510) 647-2949 or visit www.berkeleyrep.org.