Earlier this month, I sat down with the stars of San Francisco's Jersey Boys, the quartet driving audiences into a frenzy every night as Frankie Valli and the Four Seasons. You can read the story here.
Here are some tidbits that didn't make it into the newspaper. If this were a DVD, we'd be in the "special features" section right now.
The players are (pictured above from left) Deven May (Tommy DeVito), Michael Ingersoll (Nick Massi), Christopher Kale Jones (Frankie Valli) and Erich Bergen (Bob Gaudio), and we're in a suite at the Hotel Diva, across Geary Street from the Curran Theatre, where Jersey Boys is running seemingly until it's not running anymore.
A discussion about how audience members react with such personal connections to the Four Seasons music leads Bergen to say: "My dad listened to this music. His style was more Motown and doo-wop, but the Four Seasons were definitely in there, and I heard it growing up. That's one of the reasons I was so excited to be doing this show rather than an old traditional book musical."
May interjects: "Isn't this a book musical? I don't know…"
After some discussion, the actors determine that Rick Elice and Marshall Brickman's book is indeed one of the key factors in their show's success. The way the script incorporates Four Seasons songs into the framework of a tightly written play does make it a traditional, indeed, very well written, book musical.
Says Bergen: "OK. Write this: Erich Bergen is wrong. Three out of four seasons say Erich Bergen is wrong."
Cue much laughter and more discussion about why Jersey Boys works so darn well.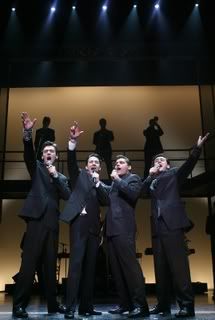 After much praise is heaped on director Des McAnuff and the creative team, Ingersoll theorizes that people are drawn in by the true story of these New Jersey guys and their rough lives, which involved prison stretches for Massi and DeVito. Later, after fame struck, life didn't necessarily get any easier.
"One of the points of the show," Ingersoll says, "is that in life, you never reach a point where everything's good — no matter how much success, money or fame you have. There's always another side to the coin. Think about us. We're on the road, away from home for a year. I'm away from my wife for a year. She visits, and this is a dream job for me. The guys would say the same thing. Nothing could be better in that way. But the fact remains I'm not seeing my wife for such a long time. There's a price to pay. It's never just: I've arrived! Everything's great! This show thrives on showing the reality of that."
The reality of the show is so convincing, in fact, that when audience members hang around the Curran stage door for a post-show chat, fans call the actors by their character names.
"We walk out that door and we're still Bob, Frankie, Tommy and Nick," Bergen says. "They'll say things like, `When you wrote that song…' And I have to remind them I'm just an actor. But they don't want you to be an actor. They want you to be the real thing."
The huge success of Jersey Boys in New York and now in San Francisco means more productions are forthcoming — probably London and another touring production (that might actually tour to places other than San Francisco). There's been talk of a movie, of course. And Bergen theorizes that in 10 years, every high school in the country will be doing Jersey Boys.


Says May: "If you take all the profanity out of the show for the high school version, it'll be 45 minutes long!"
Jones chimes in: "I cannot wait to see a high school guy singing in Frankie Valli's voice. I think it might be easier to reach those notes when you're still in puberty."
And finally, here's a fact you need to know about each of these actors.
Jones is a Rubik's Cube expert. He can solve the puzzle in under three minutes.
Ingersoll has a black belt in Tai Kwon Do and may do some teaching while he's here.
May is a professional photographer.
Bergen produces a podcast called Green Room Radio.
For information about Jersey Boys, visit www.shnsf.com.