This weekend, the Castro Theatre in San Francisco opens a Tennessee Williams film festival sure to excite cats on hot tin roofs everywhere.

The fest begins Sunday (Nov. 12) with Marlon Brando in a tight T-shirt (wouldn't he have looked good in a forthcoming Theater Dogs T-shirt?) in A Streetcar Named Desire, probably the best stage-to-screen adaptation of any Williams work. Streetcar is in a double feature with The Fugitive Kind starring Brando, Joanne Woodward and Anna Magnani.
The bill for Monday (Nov. 13) includes Cat on a Hot Tin Roof (Paul Newman in pajama bottoms and Elizabeth Taylor in a slip — see how discussion of Williams devolves into things of a more erotic nature?) featured with Sweet Bird of Youth starring Newman and Geraldine Page.
The lineup on Tuesday (Nov. 14) is Suddenly Last Summer with Taylor, Katharine Hepburn and Montgomery Clift chewing up the high-calorie scenery, and The Rose Tattoo with Magnani and Burt Lancaster.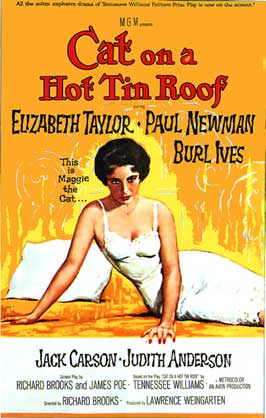 Wednesday (Nov. 15) sees Night of the Iguana paired with Boom! (a disaster only worth seeing for Noel Coward's grace under pressure); and Thursday (Nov. 16, the final day of the fest) offers This Property Is Condemned with Robert Redford and Natalie Wood and Baby Doll with Carroll Baker.
The Castro Theatre (if you haven't been, it's one of the last gorgeous movie palaces in the Bay Area) is at 429 Castro St., San Francisco. Call (415) 621-6120 or visit www.castrotheatre.com for information.