I've already offered up my Top 10 list of 2007's best Bay Area theater (see it here).
That's all well and good, but there was way too much good stuff in 2007 to contain in a polite numbered list. What follows, in no apparent order, are some of the year's most distinctive theater moments (mostly good, some not so much).
The shows in the Top 10 were really great shows, but so were these. This is my honorable mention roster:
— American Suicide, Encore Theatre Company and Z Plays
— Pillowman, Berkeley Repertory Theatre
— The Birthday Party, Aurora Theatre Company
— Pleasure & Pain, Magic Theatre's Hot House '07
— After the War, American Conservatory Theater
— Heartbreak House, Berkeley Repertory Theatre
— Tings Dey Happen, Dan Hoyle and The Marsh
— Annie Get Your Gun, Broadway by the Bay
— Des Moines, Campo Santo, Intersection for the Arts
— Richard III, California Shakespeare Theater
Favorite scene: Didn't even have to think twice about this one. The dinner scene in Berkeley Repertory Theatre's adaptation of To the Lighthouse by Virginia Woolf. Director Les Waters, working from Adele Edling Shank's script, fashioned a multilayered scene that would have made Woolf herself proud. A boisterous family dinner, warmly illuminated by candles, allows us into the head of each of the diners without ever losing track of the dinner conversation. Extraordinary and beautiful — and vocally choreographed like a piece of complex music.
Greatest guilty pleasure: Legally Blonde, The Musical, had its pre-Broadway run early in 2007 at San Francisco's Golden Gate Theatre, and though it had its problems, it was a heck of a lot of fun. The best number was the lengthy "What You Want" in which sorority gal Elle Woods (Laura Bell Bundy) decides to apply to Harvard. In true musical fashion, the number sweeps through time and space, coursing through months of effort and from Southern California to the hallowed halls of Harvard. Jerry Mitchell's choreography incorporates a frat party, the Harvard selection committee and a marching band.
Favorite image:The green girl in Berkeley Rep's The Pillowman.
Favorite couple: Francis Jue as Mr. Oji and Delia MacDougall as Olga Mikhoels in Philip Kan Gotanda's After the War at ACT. The sweetest romance was also the most surprising: a shy Japanese man and a recent Russian immigrant, neither of whom speaks much English.
Speaking of MacDougall: It was a good year for the actress (seen at right with the fur and tiara), who died memorably in Cal Shakes' King Lear and ended 2007 with a superb, hip-swiveling, lip-pursing performance in Sex by Mae West at the Aurora.
Favorite tryout: Joan Rivers is more than a red carpet personality and an experiment in plastic surgery. An avowed theater lover, Rivers got down to some serious (and seriously funny) business in The Joan Rivers Theatre Project at the Magic. She combined stand-up with drama as she told an autobiographical tale of growing old in show business. The play was far from perfect, but she gets an A for effort.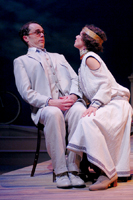 Best ensemble: Behind every good show is a good ensemble, in front of and behind the scenes. But the one that comes to mind that, together, elevated the play was the fine crew in TheatreWorks' Theophilus North (left) directed by Leslie Martinson.
Biggest disappointments: There were a few of them. I adore Kiki and Herb (Justin Bond and Kenny Melman), but their summer gig at ACT was in desperate need of a director. Berkeley Rep hosted Neil Bartlett's adaptation of Oliver Twist, and while it was good, it didn't reach anything approaching the heights of David Edgar's Nicholas Nickleby. I complained about this in the review, and I'll complain about it again: In ACT's The Rainmaker, when the rain falls at the end, the actors should get wet. That's the whole point of the play. In this version, the rain fell from above, but the actors were behind it and only pretended — acted if you will — the wetness. Lame.
Most gratuitous nudity: Actors bare all emotionally _ it's what they do. But this year saw some unnecessary flesh, most notably in 'Bot at the Magic, Private Jokes, Public Places at the Aurora and Two Boys in Bed on a Cold Winter Night. Costumes are a good thing.
Favorite quote of the year: It was uttered by the food critic Anton Ego (and written by Brad Bird) in the brilliant Pixar/Disney movie Ratatouille. As a critic (or what's left of one), the words really hit home. And they're true.
Here's a taste: "In many ways, the work of a critic is easy. We risk very little yet enjoy a position over those who offer up their work and their selves to our judgment. We thrive on negative criticism, which is fun to write and to read. But the bitter truth we critics must face is that, in the grand scheme of things, the average piece of junk is more meaningful than our criticism designating it so. But there are times when a critic truly risks something, and that is in the discovery and defense of the new."
Happy New Year. May your stages in 2008 be full of the discovery of the new.