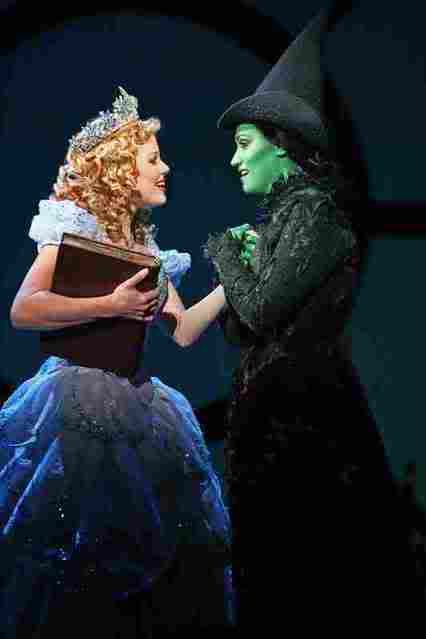 Megan Hilty (left) as Glinda and Eden Espinosa as Elphaba from the original LA company of Wicked. Photo by Joan Marcus
Old friends, new winners mark 30th anniversary season
Carole Shorenstein Hays and Robert Nederlander's new SHN/Best of Broadway season marks a milestone: 30 years of bringing Broadway to the Bay Area.
The new season, announced today, kicks off in February 2009 with a "third time's the charm" production of Wicked, the monstrous hit musical that had its world premiere at San Francisco's Curran Theatre. This time around, the musical about the witches of Oz, will play the Orpheum Theatre.
In March of 2009, Grease is the word. This is the production directed and choreographed by Kathleen Marshall that got famous for being the first Broadway musical to cast its leads on national television (through the NBC show "Grease: You're the One That I Want." This is also the production that marries the original stage version with the movie version, so songs such as "Hopelessly Devoted to You" and "You're the One That I Want" are included.
Things get exciting in April 2009 with a world premiere musical. Ever After, with a book by Marcy Heisler and Theresa Rebeck, music by Zina Goldrich and lyrics by Marcy Heisler, is directed by Doug Hughes (a Tony winner for Doubt). Ever After, which plays the Curran, is based on the 1998 movie starring Drew Barrymore and is a new twist on the Cinderella story by banishing all the bibbi-dee-bobbi-dee boo elements and focusing on a spirited young woman defying societal constraints.

In August of 2009, the theater scene gets hot with Tracy Letts' August: Osage County, this year's Pulitzer Prize winner for drama. The Steppenwolf production (currently scorching Broadway) is directed by Anna D. Shapiro. The San Francisco production at the Curran Theatre kicks off the national tour.
A final show is yet to be named, but is described in press materials as a "Broadway blockbuster." The show will be revealed, according to the Web site, in July.
Not part of the season but a "special attraction" is the umpteenth return of a Bay Area favorite: Andrew Lloyd Webber's The Phantom of the Opera. The show will run Nov. 26 through Jan. 4 at the Orpheum. Tickets go on sale Sept. 7.
For the new SHN/Best of Broadway season, subscriptions are $170 to $551. Call 415-551-2050 or 877-797-7827 or visit www.shnsf.com for information.
Listen to a podcast about the new SHN/Best of Broadway season here.