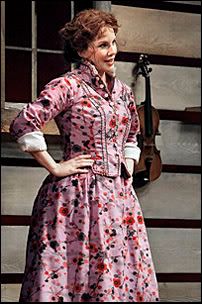 Melissa Gilbert stars as Ma in the Guthrie Theatre's world-premiere musical adaptation of Little House on the Prairie. Photo by Michal Daniel
First a series of beloved, ever-popular books, then a long-running TV series that eventually outgrew the books and created a world of its own.
And now a…musical! Of course Laura Ingalls Wilder's Little House on the Prairie books would eventually become a musical. What doesn't?
The big news about the musical, which is having its world premiere at Minneapolis' Guthrie Theatre, is that Melissa Gilbert, who played Laura on the TV show, stars in the musical as Ma, the role originally played by Karen Grassle (now a Bay Area resident).
The show, still in previews (it opens Friday, Aug. 15), has already been extended due to popular demand. The show now runs through Oct. 19.
And now news comes down that the show is going to head out on a 40-city tour. Will one of those 40 cities be in the Bay Area? Stay tuned. Producer Ben Sprecher told Playbill.com that the tour will launch in the fall of 2009.
Could this mean that producers want to build a Little House on Broadway? With all the girls visiting New York flocking to the American Girl store/show, it seems as likely as a hard prairie winter.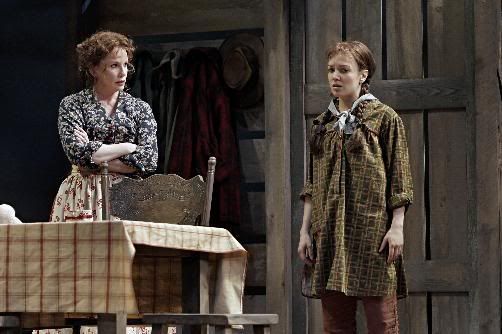 Little House on the Prairie is directed by opera director Francesca Zambello, who recently made her Broadway debut with Disney's The Little Mermaid (does she only direct musicals with the word "little" in the title?). The book is by Tony-winner Rachel Sheinkin (The 25th Annual Putnam County Spelling Bee), lyrics by Donna DiNovelli and music by Rachel Portman (best known for her movie scores such (Emma, Chocolat and The Cider House Rules).
The Minneapolis Star-Tribune has some fun Little House stories and trivia games that are worth a look for fans. Click here.
For information about Little House, visit the Guthrie's site here.