Opened March 10, 2008 at Intersection for the Arts, San Francisco
New musical finds lyricism in true crime
three stars Enigmatic Box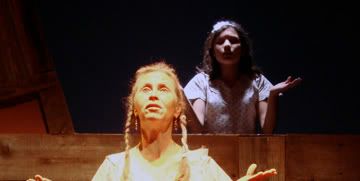 About four years ago, playwright Octavio Solis and composer Beth Custer collaborated on a surprising (and surprisingly delightful) musical called The Ballad of Pancho and Lucy, based on a true-crime story of bandits who robbed bars in San Francisco's Mission District.
Solis and Custer have returned to their true crime musicalizing ways with June in a Box, a perplexing one-act musical now at Intersection for the Arts.
The show is based on the story of June Robles, an elementary schoolgirl who, in 1934, was kidnapped by two men, buried in a box in the desert outside of Tucson, Arizona and left there for 19 days. The story was also turned into a "corrido," or Mexican-American ballad called "Ell Corrido de la Nina June Robles" (thoughtfully included in the program in its entirety in English and Spanish).
From the outset, I have to admit I was bothered by the idea of the show: cruelty inflicted on children as entertainment. Not my idea of a good time.
But Solis is a sensitive artist, and the show, though it lacks an overarching theme or impact beyond its biographical details, is an interesting musing on how June's experience in the desert affected her in later life.
Solis directs the 85-minute show himself and has cast his disarming daughter, Gracie Solis, as young June, whom we see in flashbacks enduring her desert horror with astonishing fortitude. Custer is at the piano and clarinet, assisted by an accordion player (an alternate filling in for Isabel Douglass the night I saw the show).
The tale is told through the prism of June's old age, and as an older woman she's played by the extraordinary Denise Blasor, who sings and acts with ferocity and realism.
Luis Saguar and Marc David Pinate play various roles, from hungry coyotes prowling the desert and tormenting the older June, to the men in young June's life: her father, her grandfather, her district attorney uncle and her kidnappers.
James Faerron's set is an artful junk heap — timber and corrugated metal sheets — dominated by a box center stage. This is June's prison, though the fantastical flow of the play means June isn't always confined (and when she is, the sides of the box are see-through).
Why this story needed to be a musical — especially when it had already been turned into a ballad — is mysterious. Perhaps because the older June is coming to the end of her life and needs to re-live the defining moment of her life — 19 days buried alive — and its lifelong aftermath, she needs music to give it all the lyricism of a dream. "The fever of 19 days is gone, but it leaves a constant chill," June says in her reverie.
Some of Custer's music is wonderful, full of emotion and melody. Other moments aren't so successful. For instance, Pinate and Saguar break into a number asking "Where is June?" and both the tune, their singing and Erika Chong Shuch's choreography come together in awkward ways that constitute a musical stumble.
Young Gracie Solis is a genuine talent — beautiful, believable and a fine singer. She gives weight and light to the story, which wants very much to become as lyrically intense as the musical Floyd Collins, Adam Guettel's musical tale of a man trapped in a cave, but it never quite attains that level.
June in a Box continues through March 31 at Intersection for the Arts, 446 Valencia St., San Francisco. Shows are at 8 p.m. Thursdays-Sundays (plus 8 p.m. March 31); no show March 23. Tickets are $10 to $25 on a sliding scale. Call 415-626-3311 or visit www.theintersection.org for information.