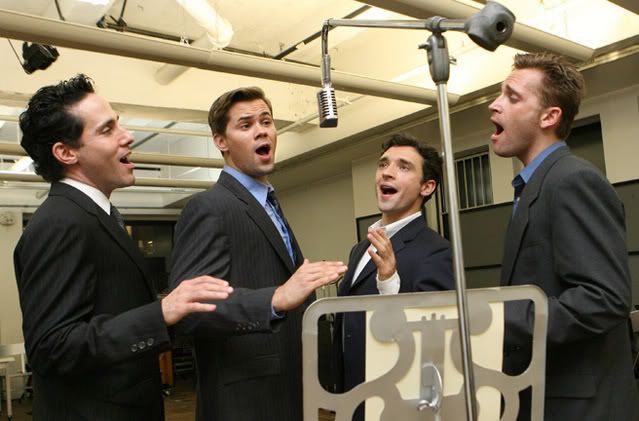 It's not often that a performer goes from gigs at the Willows Theatre Company in Concord, TheatreWorks in Mountain View and Pleasanton Playhouse in Pleasanton to one of the hottest Broadway musicals in recent memory.
That's exactly what has happened to Jeff Leibow (above, left), a former Pleasanton resident who now lives with his wife, Melody, in East Palo Alto.
But he won't be spending much time at home. Leibow is currently onstage at the Curran Theatre in San Francisco, where he's playing Nick Massi, one of the Four Seasons in the hit musical Jersey Boys.
The musical, which ran for nearly a year at the Curran before closing in September, is back for a short run with a new company before heading to Las Vegas.
This is Leibow's big break. After an exhausting audition process that took him from Las Vegas to Los Angeles to New York, Leibow received word that he got the gig while having lunch with his wife.
"I threw my arms up in the air, like Rocky, and wanted to scream, but we were in a restaurant, and I didn't want to seem like a crazy man," Leibow says.
Rehearsals in New York have been intense. The new cast learned the score in two days with one day of review, then immediately started blocking. The company flew to San Francisco last week, and performances began Tuesday.
So far, Leibow says he's bonding with his fellow Seasons _ Rick Faugno (Frankie Valli), Bryan McElroy (Tommy DeVito) and Andrew Rannells (Bob Gaudio).
"Honestly, I've never been in a cast so humble, so easy to work with," Leibow says. "Usually there's one or two actors who need to be at the top of he hierarchy, who wave their arms and shout, `I'm the best.' But this group is so focused on making this show good. They're so easy to get along with and so incredibly talented. Maybe I'm just in a dream state because this is such a great experience."
Jersey Boys continues through Dec. 30 at the Curran Theatre, 445 Geary St., San Francisco. Tickets are $30 to $99. Call 415-512-7770 or visit www.ticketmaster.com or www.shnsf.com for information.