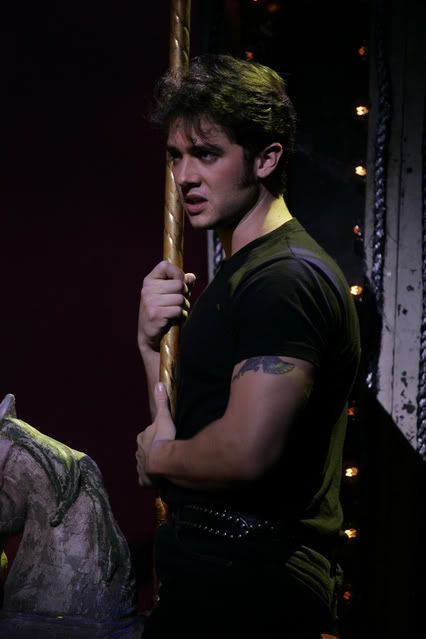 They've shaken up All Shook Up, the new juke-box musical that spins a new story out of old Elvis Presley songs.
The show began performances on Broadway in March 2005 and closed seven months later. Producers were hoping for another Mamma Mia! and ended up with something closer to Good Vibrations, the dismal musical that attempted to recycle Beach Boys songs.
When director Christopher Ashley began preparing the national tour, he decided make some changes. He and book writer Joe DiPietro tweaked the story a little and moved some songs around.
The tour opened last September in Milwaukee and makes its Bay Area debut June 19 at the San Jose Center for the Performing Arts as part of the American Musical Theatre of San Jose season.
The leading man, who plays a motorcycle-riding, guitar-playing drifter named Chad (hey, nice name), is Berkeley native Joe Mandragona, a familiar face to Bay Area theatergoers.
Perhaps you saw Mandragona in the altogether in Berkeley Repertory Theatre's zany Fetes de la Nuit. You could have glimpsed him during the summer of 2003 when he was a hard-working intern with the California Shakespeare Theater. Or maybe you saw him at San Francisco's Magic Theatre, where he played a tap-dancing Roman maniac named Brittanicus in Nero (Another Golden Rome), a punk with a bad attitude in The Opposite of Sex and a fierce drag queen named Felony Joyride in 13 Hallucinations of Julio Rivera.
Reached by phone in Hawaii, where he's vacationing and about to take a surfing lesson, Mandragona says his involvement in the musical The Opposite of Sex led to his being cast in a reading of a new musical based on John Waters' movie Cry Baby. And that led to snagging the lead in a major national tour.
As the central, Elvis-like character (the show is more like an Elvis movie than it is a musical biography), Mandragona is basically carrying the production.
"It's a load, but by the end of the show, it's one of the best feelings you could ever have," he says. "But before the show, it's like, `Oh, my God. Do I have to do this again? Really, once the show starts and you're in it, it's a blast. Most of that has to do with the style, the music, the writing — everything in the pieces. It's such a fun show."
That Mandragona is starring in a splashy musical might come as a surprise to those who knew him at St. Mary's High School in Berkeley, where he played football and baseball, or at UC Berkeley, where he was on the boxing team.
Various injuries, including some serious ankle damage, hardly slowed him down, but he kept leaning more and more toward the performing he'd been doing since summer music camps as a kid.
"Sports skills come in handy in the theater," Mandragona says. "You keep in shape and stay in touch with your body, which is really important."
The world of Elvis was far more foreign to Mandragona than the world of musicals. He remembers playing "Jailhouse Rock" on the jukebox at Mel's Diner on Shattuck Avenue, but that's about as far as his Elvis experience went.
"After researching Elvis for this role, I have a new appreciation," Mandragona says.
The only "name" co-star in the show is Susan Anton, a statuesque blonde, whom Mandragona describes as "a total blast."
"She's a really nice, good person," he says. "She mooned me the other day. It was backstage as I was leaving the stage. Just hiked up her skirt. Wow."
Ask Mandragona where home is and he says: "Don't really have one."
His room at his parents' house in Kensington has become an office.
"I was kind of in the process of thinking about moving to New York when I booked All Shook Up, so I'm sort of in limbo. The logical next step is to make the move to New York and strike while the iron's hot. Even if I don't find work, New York is a fun place to live. I've made lots of friends and have places to stay."
Being a lead in a musical is exhausting, as Mandragona knows. After doing eight shows a week in different cities for the last eight months, he says he's thinking about what kind of actor he wants to be.
"I think I'd like to throw a movie or a TV gig in there," he says. "I'd especially like to do a straight play."
Then, like Elvis in Blue Hawaii, Mandragona is off to hit the waves. Surf's up, and it's time to rock 'n' roll.
All Shook Up opens June 19 and continues through June 24 at the San Jose Center for the Performing Arts, 255 Almaden Blvd., San Jose. Tickets are $13.75 to $73. Call (408) 453-7108 or visit www.amtsj.org.